Canadian 10 dollar note
---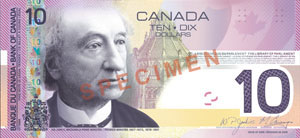 Quick links to banknotes
New vertical series



Polymer Frontier series







Canadian journey series





Description:
Size: 152.4 x 69.85mm
Paper type: Cotton based
Main colour: Purple
The Canadian 10 dollar note is a banknote of the Canadian dollar. It is is one of the most common used banknote of the Canadian dollar. It was the first bill printed when Canada changed its banknotes in 2001. The current Canadian 10 dollar note is dominantly purple in colour.
The front features a portrait of Sir John A. Macdonald, the coat of arms, and a picture of the Library of Parliament. A security feature visible from the front consists of three shiny maple leaves. The reverse side depicts images related to warfare and remembrance. This is accompanied by a quotation from John McCrae's poem "In Flanders Fields". Yellow dots representing the EURion constellation can be found on both sides (and on all 2001 series notes). As well as textured printing, this design includes Braille dots for the blind indicating the denomination as a new tactile feature. An updated version of the bill began circulation on May 18, 2005, with new security features. On the front, these include a holographic stripe along the left side, depicting the number 10 alternated with maple leaves; a watermark of Macdonald's portrait; and a broken-up number 10, which resolves itself when backlit (the latter two which replaced the shiny-leaf feature). On the back, it has an interleaved metallic strip, reading '10 CAN' repeatedly along its length.
Note: The original 10 Canadian dollar note was issued on 18 May 2005. The signature possibilities are as follows: Left – M.D. Knight, Right – G.G. Thiessen / Left – M.D. Knight, Right – D.A. Dodge / Left – W.P. Jenkins, Right – D.A. Dodge.
For detailed overview the security features of Canadian journey 10 and 5 dollar notes turn to 5 Canadian dollar note.
Sources:
bankofcanada.ca
wikipedia.org