Canadian one-hundred dollar polymer banknote
---
Quick links to banknotes
New vertical series



Polymer Frontier series






Canadian journey series






Description:
Size: 152.4 x 69.85mm
Paper type: Polymer
Main colour: Brown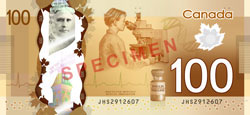 Canadian one-hundred dollar polymer note information and design features
Portrait: Sir Robert L. Borden, Prime Minister, 1911–20;
Building: The East Block of Parliamen
Signatures: Left – T. Macklem, Right– M.J. Carney;
Issue Date: 14 November 2011
Theme: Medical Innovation
The polymer 100 dollar note is predominantly brown in colour and is printed on polymer. The new 100 canadian dollar note is more secure than the cotton paper based money they replaced.

The front design on the bill features former prime minister Sir Robert Borden and the design on the back depicts the discovery of insulin. Security features introduced into the bill design include two transparent windows. One window extends from the top to the bottom of the note and has holographic images inlaid. The other window is in the shape of a maple leaf. Additional features include transparent text, a metallic portrait, raised print, and hidden numbers. The bill design and change to a polymer (plastic) paper was announced on March 10, 2011, for longevity and counterfeit prevention. On June 20, 2011, Bank of Canada Governor Mark Carney and Finance Minister Jim Flaherty unveiled the new $100 note.
Researcher at a microscope:
The image of a researcher using a microscope depicts Canada's long-standing commitment to medical research.

DNA strand:
Deoxyribonucleic acid: (DNA) is the genetic blueprint of life. Canadian researchers have been at the forefront of mapping our human genetic makeup in this field of medical science.

ECG:
This electrocardiogram provides a visual cue to Canada's contributions to heart health, including the invention of the pacemaker by John Hopps in 1950.

Insulin:
The discovery of insulin to treat diabetes was made by Canadian researchers Frederick Banting and Charles Best in 1921.
For detailed overview the security concept of Canadian dollar polymer series turn to 20 Canadian dollar polymer note.
Sources:
bankofcanada.ca
wikipedia.org