Canadian fifty dollar polymer
---
Quick links to banknotes
New vertical series



Polymer Frontier series






Canadian journey series






Description:
Size: 152.4 x 69.85mm
Paper type: Polymer
Main colour: Red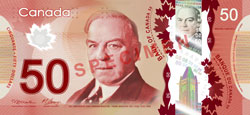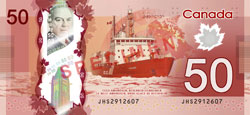 Canadian fifty dollar polymer note design features
Portrait: William Lyon Mackenzie King, Prime Minister, 1921–30 and 1935–48
Building: The Centre Block of Parliament
Signatures: Left – T. Macklem, Right – M.J. Carney
Issue date: 26 March 2012
Theme: CCGS Amundsen, Research Icebreaker
The Canadian $50 note is a banknote of the Canadian dollar. The polymer 50 dollar note is predominantly red coloured and is printed on polymer. The new 50 canadian dollar note is more secure than the cotton paper based money they replaced. It was introduced into circulation on March 26, 2012.
The front features a portrait of William Lyon Mackenzie King. A large clear window runs vertically on the right hand side of the face of the bill. There is a second metallic hologram image of King on the top of the window, and a hologram image of the Peace Tower of Canada's Parliament buildings on the bottom of the window. A ribbon made of multiple number 50s weaves between the duplicate King portrait and the Centre Block. The top left corner of the note's face has a metallic maple leaf surrounded by a transparent border. The reverse side depicts the Canadian Coast Guard Ship (CCGS) Amundsen, a research icebreaker. Because the note is plastic, the same clear windows and metallic images that are seen on the front are seen on the reverse. As well as textured printing, this design incorporates a special tactile feature similar to Braille dots for the blind indicating the denomination.
"Arctic" in Inuktitut:
This syllabic text is taken from Inuktitut, a language of Canada's Inuit population. It stands for "Arctic."
Map of Canada's northern regions:
The map on the back of this note shows Canada's northern regions in their entirety, including Inuit regions of the Arctic. This image was provided by Natural Resources Canada.
Check this video of real vs fake 50 canadian dollar note
For detailed overview the security concept of Canadian dollar polymer series turn to 20 Canadian dollar polymer note.
Sources:
bankofcanada.ca
wikipedia.org