Canadian 10 dollar polymer
---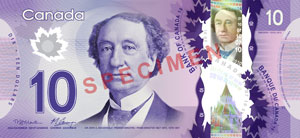 Quick links to banknotes
New vertical series



Polymer Frontier series






Canadian journey series






Description:
Size: 152.4 x 69.85mm
Paper type: Polymer
Main colour: Purple
Canadian 10 dollar polymer note design features
Portrait: Sir John A. Macdonald, Prime Minister, 1867-1873 and 1878-1891
Building: The Library of Parliament
Signatures: Left - T. Macklem, Right - M.J. Carney
Issue date: November 2013
Theme: The Canadian train
The new polymer Canadian 10 dollar note is a banknote of the Canadian dollar. The note is predominantly purple coloured and is printed on polymer. The new 10 canadian dollar is more secure than the cotton paper based money they replaced. It will be introduced into circulation in November, 2013.
The front features a portrait of Sir John A. Macdonald. A large clear window runs vertically on the right hand side of the face of the bill. There is a metallic hologram image of Macdonald on the top of the window, and a hologram image of the The Library of Canada's Parliament buildings on the bottom of the window. The top left corner of the note's face has a metallic maple leaf surrounded by a transparent border.
The train featured on the reverse of the Ten Canadian dollar note symbolizes the engineering feat of linking Canada by rail. In 1871, British Columbia agreed to join Confederation on the condition that the federal government build a railway to link the new province with the East (Manitoba was the province's closest neighbour). Canada's first Prime Minister, Sir John A. Macdonald, who is also featured on this note, kept that promise. The resulting rail expansion is one of his great legacies.
The mountains featured on the $10 note shows the greatness of the Canadian Rockies in Jasper National Park. On the left are Mount Edith Cavell and Marmot Mountain; in the centre is Esplanade Mountain; and on the right are Palisade and Pyramid mountains, part of the Victoria Cross Range. Rather than feature only one mountain range, these various peaks were selected to highlight the diverse and majestic nature of the Rockies.
The map on the back of the 10 Canadian dollar note shows VIA's network of passenger rail routes. This image was provided by Natural Resources Canada.
For detailed overview the security features of Canadian dollar polymer series turn to 20 Canadian dollar polymer note.
Sources:
bankofcanada.ca
wikipedia.org