Fifty pound sterling note
---
Quick links to banknotes
Current banknotes in circulation:







Withdrawn banknotes:





Description:
Size: 156 x 85mm
Main color: Red
Date of issue: 2 November 2011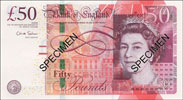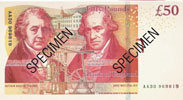 The Series F banknote, the 50 pound note, entered circulation on 2 November 2011. It is the first Bank of England banknote to feature two Britons on the reverse – James Watt and Matthew Boulton. The series F 50 pound notes are signed by Chris Salmon. The Bank of England announced that £50 Series F banknote will be withdrawn from circulation after 30 September 2022.
Security Features
Security features can help you to tell if a £50 note is fake or real.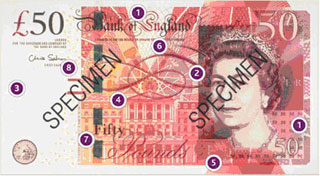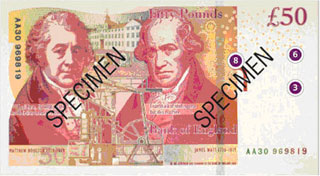 (1)Check he paper and raised print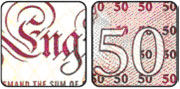 Banknotes are printed on special paper that gives them their unique feel. By running your finger across the front of the new-style 50 pound note you can feel raised print in areas such as the words 'Bank of England' and in the bottom right corner, around the number 50.
(2)Check the metallic thread
There is a metallic thread embedded in every banknote. If you hold the 50 pounds note up to the light the metallic thread will appear as a continuous dark line.
(3)Check the watermark.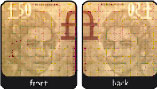 Hold the banknote up to the light and you will see the image of the Queen's portrait together with a bright 50 and Pound symbol.
(4)Check the print quality.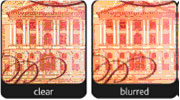 The printed lines and colors on the new-style fifty pound note are sharp, clear and free from smudges or blurred edges.
(5) Check microlettering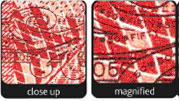 Using a magnifying glass, look closely at the lettering beneath the Queen's portrait on the new-style 50 pound- you will see the value of the note written in small letters and numbers.
(6)Ultraviolet feature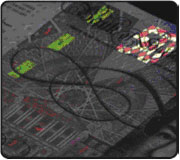 If you look at the front of the 50 pound note under a good quality ultra-violet light, the number 50 appears in bright red and green. The five windows of the motion thread also appear. Randomly spread bright red and green flecks are also visible on both the front and the back of the note. The remainder of the note appear dull in contrast.
(7)Check the motion thread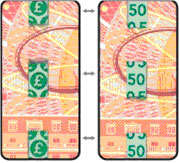 The motion thread on the new-style 50GBP note is woven into paper is woven into paper. It has five windows along his length which contain images of the pound symbol and the number of 50. When the note is tilted from side to side, the images move up and down. When the note is tilted up and down the images move from side to side and the number 50 and the symbol switch.
(8)Check the see-through register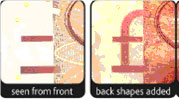 Hold the note up to the light and you will see colored irregular shapes printed on the front and back that combine to form the Pound symbol.
Sources:
bankofengland.co.uk
wikipedia.org