Twenty Pound Sterling polymer note
---
Quick links to banknotes
Current banknotes in circulation:






Withdrawn banknotes:






Description:
Size: 139 x 73mm
Main color: Purple
Date of issue: 20 February 2020
The new polymer £20 banknote, featuring self-portrait of artist J. M. W. Turner, known as William Turner entered circulation on 20 February 2020. He was an English Romantic painter, printmaker and watercolorist. The design includes a version of Turner's The Fighting Temeraire, the quote "Light is therefore color" from an 1818 lecture by Turner, and a copy of Turner's signature as made on his will.
Security Features
Security features can help you to tell if a polymer £20 note is fake or real.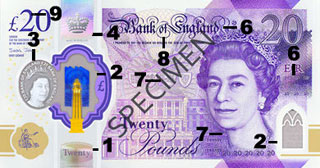 (1) Hologram image
Tilt the note from side to side. Check the words change between 'Twenty' and 'Pounds'.
(2) See-through windows

Look at the metallic image over the main window. Check the foil is blue and gold on the front of the note and silver on the back.
Look at the second, smaller window in the bottom corner of the £20 note.
(3) The Queen's portrait in the see-through window
A portrait of the Queen is printed on the window with '£20 Bank of England' printed twice around the edge.
(4)Silver foil patch
A silver foil patch contains a 3D image of the coronation crown. You will find this above the main see-through window on the front of the note.
(5) Purple foil patch
A round, purple foil patch contains the letter 'T'. You will find this on the reverse of the note, behind the silver crown on the obverse of the note.
(6) Feel of polymer and raised print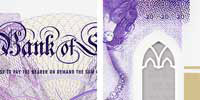 The note is printed on polymer, which is a thin and flexible plastic material. On the front of the note, you can feel raised print. For example, on the words 'Bank of England' and in the bottom right corner, over the smaller window.
(7) Print quality
The printed lines and colors on the note are sharp, clear and free from smudges or blurred edges. If you use a magnifying glass, you will see the value of the note written in small letters and numbers below the Queen's portrait.
(8) Ultra-violet number

Under a good quality ultra-violet light, the number '20' appears in bright red and green on the front of the note, against a duller background.
(9) Tactile feature
There is a tactile feature to assist vision-impaired people.
Check this video of real vs fake 20 pound note
Sources:
bankofengland.co.uk
wikipedia.org