Two-hundred Swiss franc note
---
Quick links to banknotes
Ninth series:




Eighth series:





Description:
Size: 70 x 151mm
Main color: Brown
Date of issue: 22 August 2018
According to Swiss National Bank there are about 76.47 million 200-franc banknotes in circulation, amounting to 14.9 percent of the number and 18.1 percent of the value of all banknotes in Switzerland. A survey by the Swiss National Bank shows that 66 percent of the Swiss resident population has held a 200-franc note in their hands in the last few years. The notes have an above-average life expectancy of over 10 years.
Two-hundred Swiss franc note design features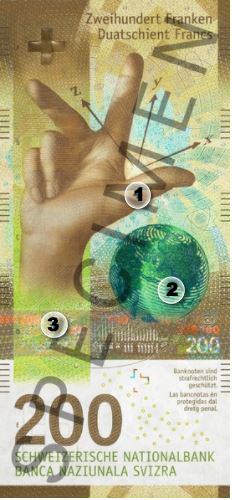 The design of the new 200-frank banknote is based on Switzerland's scientific expertise and achievements, expressed by matter.
[1]Hand
The fingers of the hand describe three axis coordinates, representing the spatial dimensions in which matter expands.
[2]Globe and land masses
Over the globe, the earth's land masses during the late Cretaceous period are shown.
[3]Security strip
The security strip features an abstract map of the geological ages of Switzerland, as well as a timeline showing some of the stages in the formation of the universe.
[4]Particle collision
The particle collision expresses the key motif of the note and highlights the international importance of Swiss scientific activities.
[5]Particle detector
The illustration of a particle detector represents Switzerland as a research hub.
For detailed overview the security features of Swiss franc new 9-th series banknotes turn to 50 Swiss franc note or 100 Swiss franc note.
Sources:
snb.ch
wikipedia.org