One thousand Swiss franc note
---
Quick links to banknotes
Ninth series:





Eighth series:





Description:
Size: 70 x 158mm
Main color: Purple
Date of issue: 13 March 2019
According to Swiss National Bank there are about 48.6 million 1000-franc banknotes in circulation, amounting to 9.5 percent of the number and 57.6 percent of the value of all banknotes in Switzerland. One thousand franc note is used by some people to avoid negative interest rates and save money out of the banks. A survey by the Swiss National Bank shows that only 40 percent of the Swiss resident population has held a 1000-franc note in their hands in the last two years. The notes have an above-average life expectancy of over 10 years.
One thousand Swiss franc note design features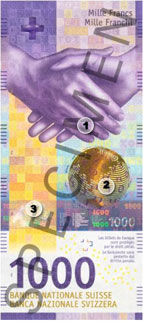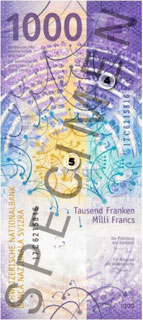 The design of the new 1000-frank banknote is based on Switzerland's communicative flair, expressed by language.
[1]Handshake
The handshake symbolizes interpersonal communication.
[2]Globe and phonetic symbols
Symbols over the globe are taken from the International Phonetic Alphabet, which enables the correct pronunciation of words in different languages.
[3]Security strip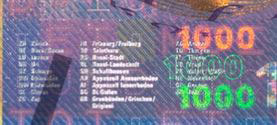 The map on the security strip shows the language regions of Switzerland and its neighboring countries; in addition, the names of all Swiss cantons are listed.
[4]Parliament

The Swiss parliament, known as a forum for public debate, represents Switzerland's communicative side.
[5]Open network
The illustration of an open network references the denomination's theme, communication.
For detailed overview the security features of Swiss franc new 9-th series banknotes turn to 50 Swiss franc note or 100 Swiss franc note.
Sources:
snb.ch
wikipedia.org