Five Euro banknote(Europa series)
---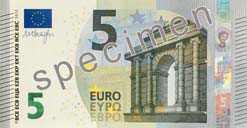 Quick links to banknotes
Europa series:






First series:








Design
Description:
Size: 120 x 62mm
Paper type: Cotton
Main color: Grey
Architectural style: Classical


The five euro banknote (€5) is the lowest denomination of euro banknotes. The note depicts bridges and arches/doorways in Classical architecture. The design contains the denomination, the signature of the president of the European Central Bank, the European union flag, the EU flag stars, description of EU overseas territories and the initials of ECB in different european languages.
On 10 January 2013 Mario Draghi, President of the ECB, unveiled the new 5 Euro banknote at the Archaeological Museum in Frankfurt am Main. The 5 Euro banknote is the first banknote in the Europa series introduced and issued on 2 May 2013 across the euro area.
The banknote paper consists of pure cotton, which feels crisp and firm (not limp or waxy).
Security features
Security features can help you to tell if your five euro note is fake or real.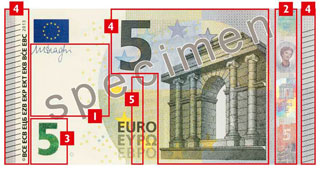 Feel the banknote
Raised print (pos.4)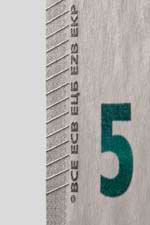 On the front, there is a series of short raised lines on the left and right edges. The main image, the lettering and the large value numeral also feel thicker.
Hold the banknote against the light and see:
Portrait watermark (pos.1)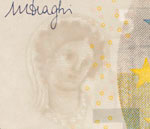 A faint image becomes visible and shows a portrait of Europa, the value of the banknote and a window.
Security thread(pos.5)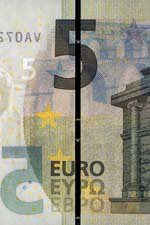 The security thread appears as a dark stripe. The € symbol and the value of the banknote can be seen in tiny white lettering in that stripe.
Tilt the banknote:
Portrait hologram (pos.2)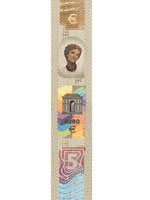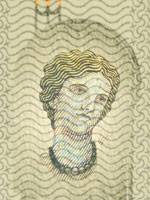 The silvery stripe reveals a portrait of Europa – the same one as in the watermark. The stripe also shows a window and the value of the banknote.
Emerald number(pos.3)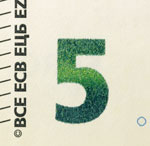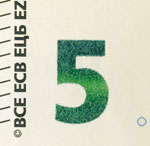 The shiny number displays an effect of the light that moves up and down. The number also changes color from emerald green to deep blue.
Sources:
European Central Bank
wikipedia.org