Australian fifty dollar note(Second series)
---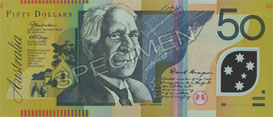 Quick links to banknotes
Third series(2016–present)





Second series(1992–present)





Description:
Size: 151 x 65mm
Paper type: Polymer
Main colour: Yellow


The Australian 50 dollar note is an Australian banknote with a face value of fifty Australian dollars (A$50). It is currently a polymer banknote, featuring portraits of David Unaipon and Edith Cowan.

No fifty dollar note was released as part of the initial rollout of decimal currency in 1966, but inflation necessitated its introduction seven years later in 1973. The original fifty dollar note, designed by Gordon Andrews, has a scientific theme. On the front of the note is a portrait of Australian pathologist Sir Howard Florey and scenes of laboratory research. On the back is a portrait of Sir Ian Clunies Ross, veterinary scientist and first chairman of the CSIRO, along with scenes from the Australian environment.

On 4 October 1995 a new set of polymer notes were released, these were immediately nicknamed 'pineapples. Designed by Brian Sadgrove, the new fifty Australian dollar note features a portrait of Indigenous Australian author and inventor David Unaipon on the front, along with drawings from one of his inventions, and an extract from the original manuscript of his Legendary Tales of the Australian Aborigines. On the back is a portrait of Edith Cowan, first female member of any Australian parliament, along with a picture of Western Australia's original Parliament House, and an illustration of a foster mother and children.

According to Reserve Bank statistics, at the end of June 2015 there was a net value of $30,414 million in Australian 50 dollar notes in circulation representing 46% of the cash value of all issued notes. Actual banknotes in circulation account for 45% of all denominations, or 608 million notes.

In 2014/15 around 33,292 counterfeit 50 Australian dollar banknotes, with a nominal value of $1,664,600, were detected in circulation.
Security Features:
Security features can help you to tell if a Australian One hundred dollar note is fake or real.
Clear window

A clear window has a stylised version of the Southern Cross printed in it, along with embossing of the number '50' (both can be seen from either side of the note).
Seven pointed star


When the Australian 50 dollar note is held to the light, a seven pointed star within a circle is formed by four points on one side of the banknote combining perfectly with three points on the other side.
Crest watermark


When the banknote is held to the light also, an image of the Australian Coat of Arms can be seen under other printing.
Micro text


The words 'FIFTY DOLLARS' are microprinted and can be seen with the aid of a magnifying glass.
Tactile feature


There is a tactile feature to assist vision-impared people.
Raised print

Slightly raised printing that can be felt with the fingers is used for the portraits and other major design elements.
Serial number

The serial number of each Australian 50 dollar note is printed twice, one in blue and one in black, on the back of the banknote. A different font is used for each serial number. The alpha prefix of two letters is followed by two numerals representing the year of the production, followed by a further six numerals. Under ultra-violet light, the serial numbers fluoresce.
Under UV light


Under ultra-violet light, a patch showing the number '50' becomes visible on the back of the note.
Check this video of fake $50 australian dollar
Sources:
rba.gov.au
wikipedia.org